What We Do
Our Business
The Association of International Certified Professional Accountants (the Association) is the most influential body of professional accountants, combining the strengths of the American Institute of CPAs (AICPA) and the Chartered Institute of Management Accountants (CIMA). We empower the world's most highly-skilled accountants – CPAs and CGMA designation holders – with the knowledge, insight and foresight to meet today's demands and tomorrow's challenges.
Our Mission
Our mission is to drive a dynamic accounting profession ready to meet the demands of a constantly changing, disruptive world. We serve 696,000 members, students, and engaged professionals in 192 countries — providing the tools, resources and intelligence they need to clarify complexity, anticipate risk and create opportunity.
We are their voice, protecting the public interest and powering trust, opportunity and prosperity worldwide.
Our Locations
The Association provides services to our members from 30 offices world-wide. Nestled in the heart of global financial centers and major metropolitan areas, our offices are at the center of it all and enriched by the diverse backgrounds, perspectives and talents of our more than 1200 team members. Our major hubs are in Durham, NC , London, UK and Petaling Jaya, Malaysia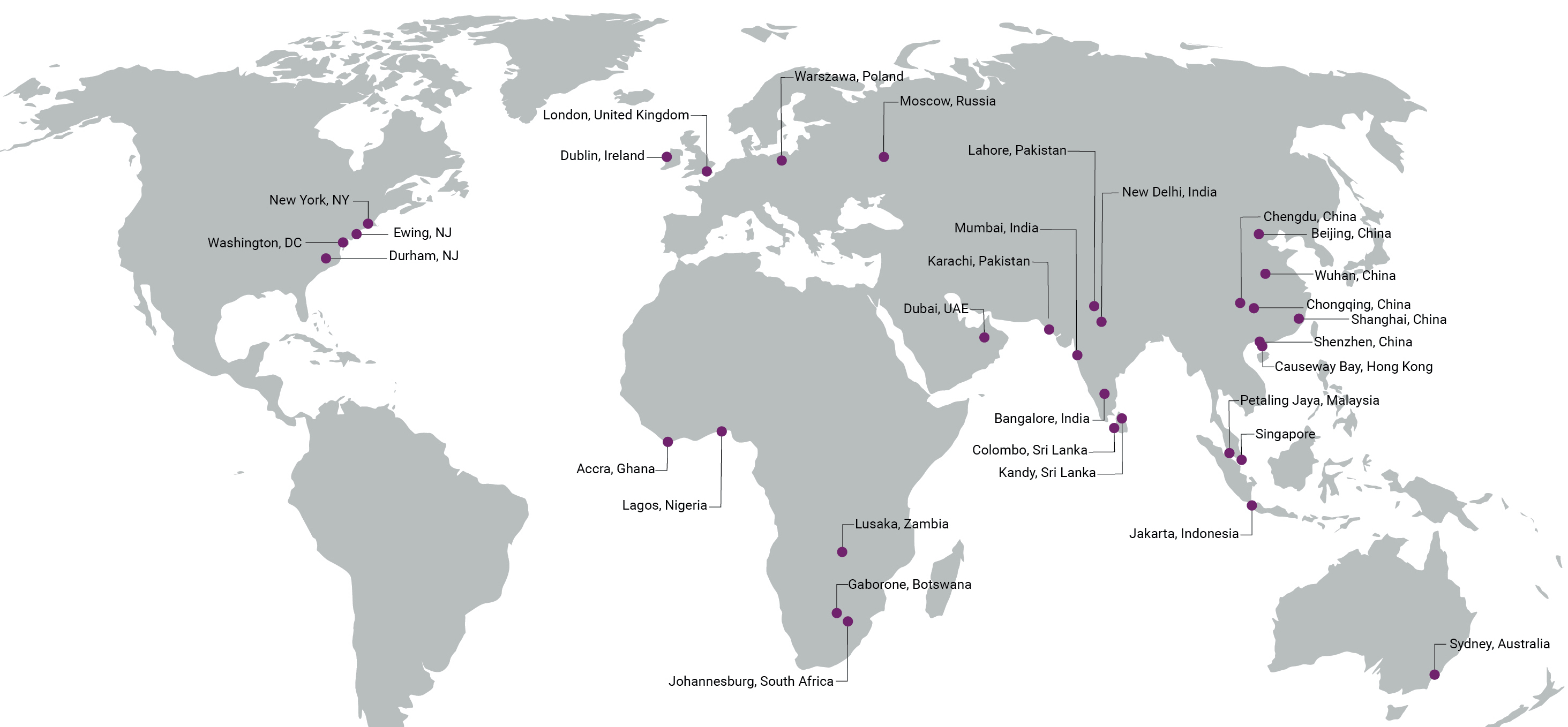 United States

New York, New York
Ewing, New Jersey
Washington, DC
Durham, North Carolina

UK & Europe

London, UK
Dublin, Ireland
Warsaw, Poland
Moscow, Russia

Africa

Gaborone, Botswana
Accra, Ghana
Lagos, Nigeria
Johannesburg,South Africa
Lusaka, Zambia

Middle East

Dubai, UAE
Lahore, Pakistan
Karachi, Pakistan

Asia-Pacific

Sydney, Australia
Beijing, China
Chengdu, China
Chongqing, China
Guangzhou, China
Shanghai, China
Shenzhen, China
Wuhan, China
Causeway Bay, Hong Kong
Bangalore, India
Mumbai, India
New Delhi, India
Jakarta,Indonesia
Petaling Jaya, Malaysia
Singapore, Singapore
Colombo, Sri Lanka
Kandy, Sri Lanka